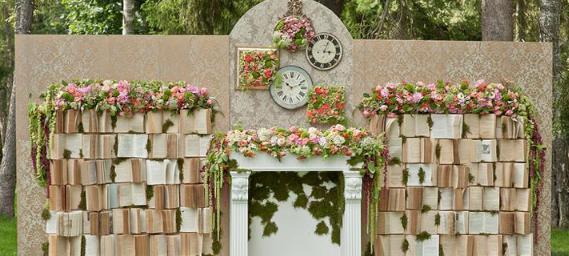 Did you meet your beloved in the mystery aisle in a cosy bookstore? Or did you both brush into each other on the steps of your favourite library? Maybe you chatted in an online book cafe about the best historical romances till date?
Whatever literary theme your love story may have, planning a wedding around a book theme will make it wonderfully memorable forever.
A library is an exceedingly charming location for the most important day of your lives — you're enveloped by some of the greatest, most unforgettable love stories ever penned down! You get to say 'I do' with a torn book paper bouquet while your wedding invitees sit around exquisite vintage book centrepieces and you hold your vows on customised book paper.
Ah, what literary fun!
For more of these really unique and cool ideas for a book-themed wedding, scroll down and keep reading.
Book-Themed Wedding Idea #1
Customise the decor of your tables to narrate the tale of your courtship, especially if it started with a book or something similarly literary.
Book-Themed Wedding Idea #2
Include your favourite books in your engagement photos. You and your soon-to-be better half can have a lot of fun picking out your favourite books and then get a little creative by including them in various ways in your engagement photo shoot.
Stand at the entrance of your local library; hug it out next to your personalised bookshelves at your homes etc.
Book-Themed Wedding Idea #3
Coming back to the table decor, stack up your favourite novels and non-fiction tomes to form attractive and deceptively simple centrepieces. These could even spark interesting conversations among your nerdy guests!
Wouldn't that make your wedding fun for all?
Book-Themed Wedding Idea #4
Make your save-the-dates literarily charming by creating a library card or a bookmark or even a mini-book as a cute book-themed reminder for all your invitees to save the most important date in your life.
You can search online for more ideas and options and finalise the one that you and your intended love the most.
Book-Themed Wedding Idea #5
How about book-themed luminaries? Now that's a novel idea! Luminaries made out of book paper will look enchanting and are perfect for going-home presents for all your wedding guests.
For more literary cuteness, line the aisle with them and incorporate them as a par of your wedding reception decor for a very romantic look.
Book-Themed Wedding Idea #6
Your invitations are the first impression of your upcoming wedding for all your friends and family. Let the world know your wedding's intriguing book theme by sending out library-based invitations.
Be creative – think Harry Potter styled fonts with Hogwarts in the background or the Game Of Thrones design in the centre of your invite.
Fun Tip – Fine your guests who don't RSVP on time.
Book-Themed Wedding Idea #7
Having a literary touch wedding without a theme cake? Impossible!
Go to the most imaginative wedding cake bakers in town and brainstorm fun book-theme cake ideas.
From a cake designed as a stack of your favourite books, to just one single significant book, or maybe you could have a whole library as your cake – as we advised, get creative here!
Book-Themed Wedding Idea #8
Your vows are an important part of the wedding ceremony for you and your fiance(e). So, why not read a paragraph from the most cherished romance novel you have?
Touching and sweet at the same time; not to mention, it makes writing your vows a lot easier too – just saying!
Book-Themed Wedding Idea #9
Want a really dreamy looking and unusual bouquet for your book-themed wedding? Then carry down the aisle a bouquet of flowers that is entirely made up of book pages!
Or make photocopies from your favourite book and use those.
You could even combine real flowers with the printed ones for a more lovely looking bouquet. The added advantage of a book-paper bouquet is that unlike the original ones, this will never wither away.